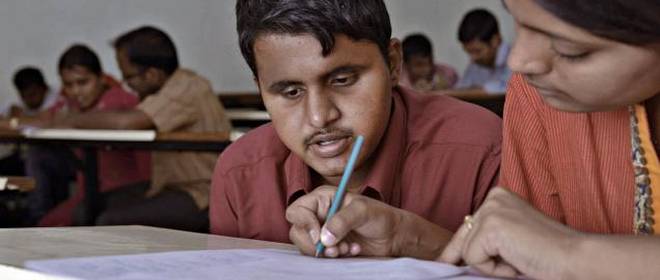 Mudassar, a differently-abled student from Lady Shri Ram College, DU says, "A large number of facilities provided by the varsity towards differently abled students has helped me a lot. My academic performance in the college is much better compared to my school performance."
Delhi University is providing numerous facilities to improve the academic performance of differently abled students. A Java programming tool for students with visual disabilities has already been installed in the computers in several colleges. Ramps and tactile tracks have already been built in the campus of almost all colleges. There is an Equal Opportunity Cell (EOC) in the arts faculty, which acts as a helping hand for differently-abled students. The main aim of EOC is to make sure that no discrimination took place in the university on grounds of disability or minority status.
A differently-abled student from Kirori Mal college, DU says, " If normal students are getting four notes then a differently-abled student is getting the soft copy of only one note. Even after complaining about the issue to the college faculty, they are not getting the soft notes on time." This shows that the facilities provided are not satisfying but the administration is trying to put their foot forward on making the facilities as satisfying as possible.
Here are some of the facilities provided by the colleges of Delhi University: of Delhi University:
Miranda House
Miranda House has the Amba Dalmia center within its library for the visually challenged students and also has computers which read out texts. Their is also an enabling unit called Lakshita, an app which is installed in the phones of differently-abled students at the time of admission.
Lady Shri Ram College of Women
Most of the buildings in LSR have ramps which make the campus wheelchair friendly. The college has elevators for the same. LSR also has a research center for visually impaired students where almost all VCS get accessible reading.
Daulat Ram College
NSS-DRC plays an essential role in helping differently-abled students. The college has ramps making it wheelchair friendly although it does not have elevators. The college has an enabling unit which helps students in multiple ways, including counseling them.
Hans Raj College
Hans Raj College has 4 ramps across the college. Braille books and software for visually impaired students along with laptops are also provided to the students. HRC has both EOC and enabling unit. The EOC provides enabling unit with crutches, wheelchairs and angel recorders which end up helping the VCS, and angel recorders which end up helping the VCS, PWD students and orthopedically handicapped students. HRC has tactile path both inside and outside the college. They also organized Roshini – an organ donation camp in the organization with National Organ and Tissue Transplant Organisation.
 Equal Opportunity Cell says discrimination to differently-abled students has always been a problem but from past few years, the rate of discrimination has lowered to an extreme level. They also say that awareness, sensitivity and willingness to talk about the problem that students with disabilities face are ways to ensure that they get the resource they deserve and making them believe that they are not different from the normal youth and make the saying true that disable is able of everything.