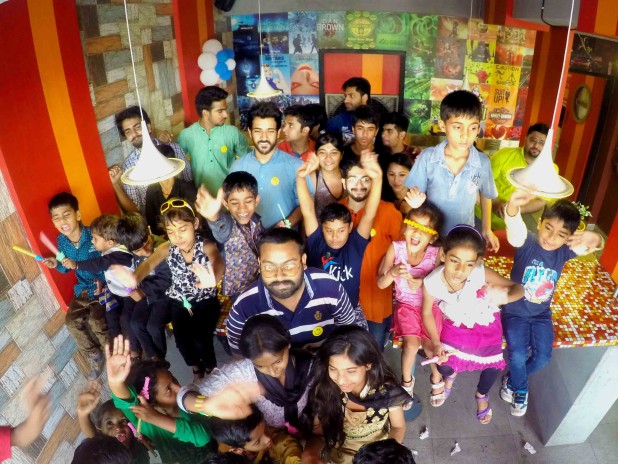 "A Delhi based startup V- AR Filmers, an upcoming filming agency of three 3 young media eccentrics took 20 underprivileged children of the Dhaka village for a special treat. The campaign "The Special Grace" was conceptualized on April 18, 2015 in association with QD's Restaurant.
The children were taken to QD's Restaurant by a fully adorned bus, making the children feel special on the occasion. A full setup of 6 DSLRs, 2 hidden cameras, and 2 GoPro was done by V-AR Filmers to capture that "Special" moment of the kids.
The QD's Restaurant supported the campaign by providing complimentary meals for the kids and contributing to making them feel special. The kids' platter was served with specialty of QD's, delicious food and Red Velvet and Chocolate pastries.
The V-AR Filmers were keen to do something for the society so took an initiative to fulfill small dreams of the children. It also marks the vision of the startup which believes in "Achieving small dreams lays the foundation for the bigger ones."
With a message of "Sharing makes it SPECIAL", the Special Grace is an attempt to urge people to treat at least 1 underprivileged kid to a delicacy treat and make his/her day SPECIAL.
The video of "The Special Grace" campaign was released on Monday evening on YouTube.
V-AR Filmers said, "We felt miserable seeing the kind of attitude big restaurants showed to little children. Sitting inside the four walls and daily reading stories on ill treatment by renowned hospitality chains we decided not to stay quiet and raise a voice. The special grace is a result of the same. It is an appeal to all of us who can afford eating in big restaurants to do something good. Share because it would make someone feel special. And a special thanks to QD's without whom this could not be complete."
Mr. Akhil Malik, owner of QD's Restaurant said, "We at QD's are extremely delighted to be part of this initiative. This was an opportunity for us to bring smile on the faces of the little children and we shall endeavor to do so as and when we get a chance. We hope and wish that this initiative brings about a change in how people perceive these underprivileged kids and together we can try and make them feel special and loved".
About V-AR Filmers
 V- AR Filmers is a production and creative house that aims to serve its clients to the fullest in building their corporate image through advertising and promotion. V-AR filmers came into existence with the coming together of three magnificent pillars who are masters of their work.
About QD's
QDs is a multi- cuisine restaurant located in the hub of North and South campuses. It has its branches in both Hudson Lane and Satyaniketan respectively.  A popular hang out amongst students and families alike, QDs is the innovator of the popular known dish, "tandoori momos".
YouTube Video Link :
https://www.youtube.com/watch?v=c_KMZIlnSwk