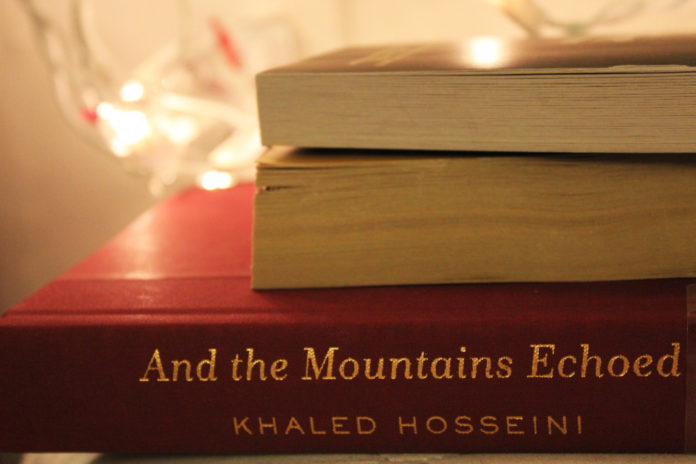 "A story is like a moving train: no matter where you hop onboard, you are bound to reach your destination sooner or later."
When we pick up a Khaled Hosseini, what do we expect? A tear jerker? A vivid story that is both mystical yet also so real? A novel that is both historical and contemporary? And the Mountains Echoed, his latest work, incorporates all these elements, and yet manages to be slightly different from the rest of his works. The core of this novel is a story of separation – that of Abdullah and Pari, siblings whose attachment for each other seems to go beyond the understood notions of love. Divided into nine sections, the story unfolds itself through the perspectives of nine different characters, all seemingly distant yet acutely linked. These characters take you across time and space, not in a linear way, but in an almost haphazard yet coordinated manner, much alike the lives of the characters themselves.
Hosseini takes us back to his home country, Afghanistan, the place he knows best. As always, his astute skill with words paints a stunning picture of the beautiful country. His talent as a story teller never fails to make the reader experience exactly what he wants to offer. He makes you feel at home in Afghanistan, France, Greece and the US. Inspite of the geographical distance, the connection felt between them because of the characters is exceptionally intense. What he captures in words is both the individuality of each story as well as the broader link with the whole. The amazing characterisation and the intertwined narratives paint for us the larger picture, of a world that is trying to cling to its roots while also experiencing globalisation. Interconnection is a huge part of how the story pans out.
How effectively does Hosseini manage to do this? While his writing is splendid and intricate, at some times in the book, endings feel abrupt. The reader could possibly experience frustration because the narratives do not always satisfy our curiosity. Questions are left unanswered and voices are left unheard. It does feel like Hosseini has tried to pack too much in too little space. However, that does not take away from the entirety of the novel.
In spite of being primarily a story about loss, Hosseini manages to show us how the experience of grief is necessary to feel the liberating possibilities of hope. A bittersweet story, the themes of guilt and redemption are strong throughout the novel. More morally ambiguous than A Thousand Splendid Suns, we find every character presented in various shades of grey, each with their own story complete with justifications but also the scope of questioning their actions.
Is it as devastating as The Kite Runner and A Thousand Splendid Suns? Not really. Yet, it is profoundly moving, and holds its own when not brought in comparison with his other two novels. Definitely a book worth reading, especially if you enjoy an enchanting and thought provoking tale that is presented through a variety of perspectives.
Published by Riverhead Publications, And the Mountains Echoed can be picked up at any bookstore, or is even available on Flipkart for Rs.389.
Happy reading!
Photocredit:flipkart.com