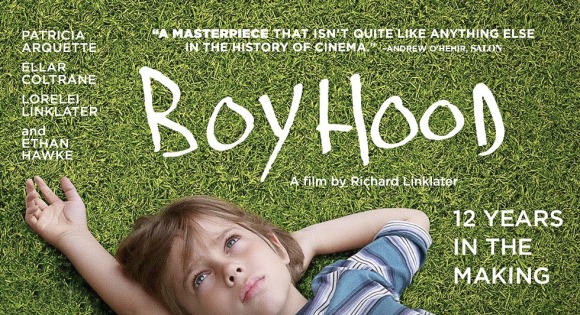 BOYHOOD!
Director: Richard Linklater
Genre: Drama
Language: English
Role play: Ellar Coltrane, Patricia Arquette, Lorelei Linklater, Ethan Hawke.
Awards & Recognitions: Academy Awards, BAFTA, Golden Globe.
SYNOPSIS
Filmed over 12 years with the same cast, Richard Linklater's BOYHOOD is a groundbreaking story of growing up as seen through the eyes of a child named Mason (a breakthrough performance by Ellar Coltrane), who literally grows up on screen before our eyes. Starring Ethan Hawke and Patricia Arquette as Mason's parents and newcomer Lorelei Linklater as his sister Samantha, BOYHOOD charts the rocky terrain of childhood like no other film has before. Snapshots of adolescence from road trips and family dinners to birthdays and graduations and all the moments in between become transcendent, set to a soundtrack spanning the years from Coldplay's Yellow to Arcade Fire's Deep Blue. BOYHOOD is both a nostalgic time capsule of the recent past and an ode to growing up and parenting. It's impossible to watch Mason and his family without thinking about our own journey.
REVIEW

The first six-odd years of this film's life, before teenhood strikes and he comes forth and she recedes into moody silences. Hawke is quite in his Linklater mould, while Coltrane has just the reticence and the sudden sparks required of his character.
Linklater marks the passage of time through changing hairstyles, facial hair and body muscle as well as growing wrinkles, sagging arms and widening waistlines, but also satisfyingly in the alteration of the worlds his characters inhabit. So in the beginning Dad is telling his children about "never voting Bush" (the year is around 2004, George W Bush vs John Kerry) while forgetting to mind his cuss words and openly smoking. He talks in evasive generalities, drives a cool car, and is a self-confessed Democrat in Texas — and what could be wrong with such a guy? But that's Dad's first visit to his children in one-and-a-half years and Mom isn't about to let him forget that, even if it is with just a few casual questions underlining that the children haven't had anything to eat but French fries and everything to do but homework.
Video games get fancier, a war veteran drops in, the almost blind romance for Obama enters the picture, there is an encounter with a Mexican immigrant, followed by a return to religion, and suddenly as Mason inches more towards puberty and his parents towards post-idealism, politics doesn't occupy their world view.
Instead, Mason talks and talks much like Jesse in Before Sunrise and its sequels, about life in the digital world. He doesn't have as receptive a listener as Jesse's Celine, and the film disappointingly repeatedly plays down the likelihood of such a girl existing.
However, while making this film over 12 years, Linklater came out with both Before Sunset, where Jesse and Celine meet again after a gap of nine years, and Before Midnight, where they are arguing over his and her priorities in a row that starts with him talking about his distance from a son from his previous marriage.
See all the films together, and it's interesting where Boyhood's Dad and Mason fit in, or that Dad and Mom have no names.
Interestingly too, Celine has no place in this world. She is an idea whose ageing is too much for even this film on growing up to bear. As it draws towards its slightly drag of an end, the one image that stays in your mind is Mom (Arquette, miles, miles ahead of the others) at her small table, with bills again spread out before her, her tired eyes welling up with tears.