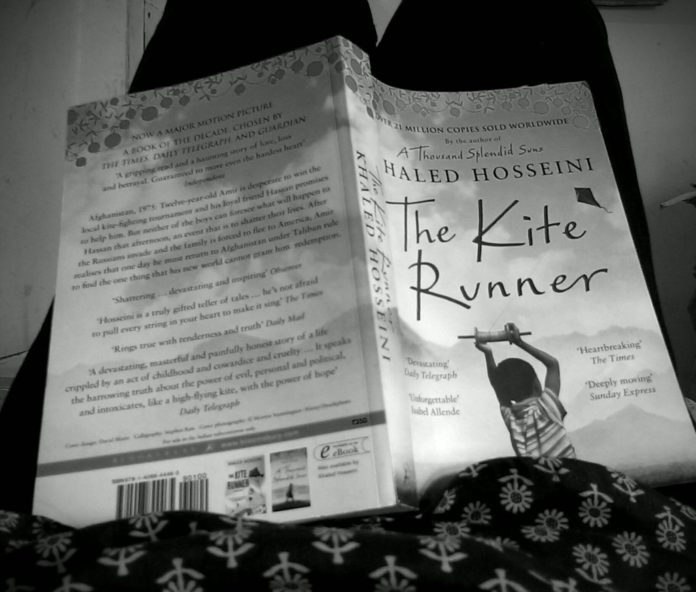 AUTHOR: Khaled Hosseini  LANGUAGE: English
COUNTRY: United States GENRE: Historical fiction, Drama
PUBLISHER: Riverhead Books PUBLISHING DATE: May 29, 2003
COVER ARTIST: David Mann ISBN: 1-57322-245-3
 Central Characters: Amir (protagonist), Hassan (Amir's friend), Baba (Amir's father and a wealthy businessman), Ali (Baba's servant, a hazara and Hassan's father), Rahim Khan (Baba's old business friend).
THE PLOT:  Afghanistan, 1975: Twelve-year old Amir is desperate to win the local kite-fighting tournament and his loyal friend Hassan promises to help him. But neither of the boys can foresee what will happen to Hassan that afternoon, an event that is to shatter their lives. After the Russians invade and the family is forced to flee America, Amir realizes that one day he must return to Afghanistan under Taliban rule to find that one thing that his new world cannot grant him: redemption.
REVIEW: On one level, The Kite Runner by Khaled Hosseini is the story of two boys in Afghanistan and Afghan immigrants in America. He wrote this book from first person point of view.  It is a story set in a culture that has become of increasing interest to Americans since the September 11, 2001 attacks. On this level, it provides a good way for people to learn more about Afghan history and culture in the context of story.
The Kite Runner looks at how the main character, Amir, deals with a secret in his past and how that secret shapes who he becomes. It tells  Amir's childhood friendship with Hassan, his relationship with his father and growing up in a privileged place in society. I was drawn in by Amir's voice. I sympathized with him, cheered for him and felt angry with him at different points. Similarly, I became attached to Hassan and his father. The characters became real to me, and it was difficult for me to put the book down and leave their world.
The book swings seamlessly to and fro between the past and the present which makes the plot exceptionally gripping.
Myriad of emotions, of broken lives and man's quest for his self-discovery –blended beautifully in this masterpiece.
 "Huddled together in the dining room and waiting for the sun to rise,
                                                none of us had any notion that a way of life had ended".
'A gripping read and a haunting story of love, loss and betrayal. Guaranteed to move even the hardest heart'    Independent
                             'Raising true with tenderness and truth'      Daily Mail