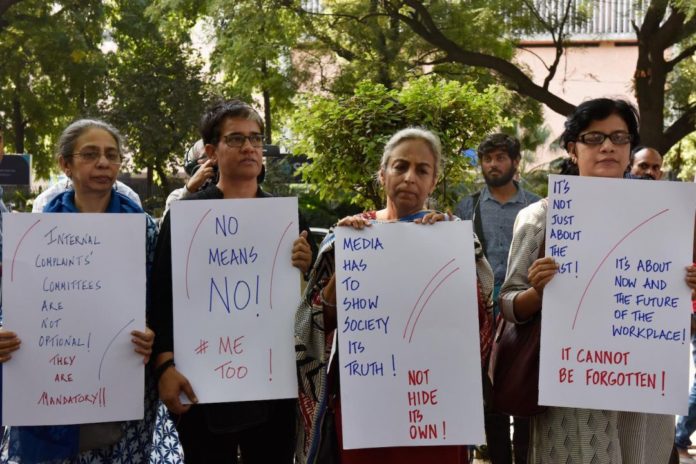 In circumstances where women are discouraged to openly talk about or report to the police, the sexual harassment that they had gone through, in order to protect the so called family honor, the #MeToo movement came as a big change as well as challenge to the rigid societal norms.
In circumstances where many people condemn social media for ruining the lives of today's youth, the #MeToo movement showed that social media can also be a right platform to raise essential societal and political concerns.
The youth of one of the top ten universities in India, University of Delhi, has enthusiastically showed their concerns on strengthening as well as taking forward the #MeToo movement in the right direction.
Delhi University's Gender Sensitisation Cell which was formed in January, 2018 organized a panel discussion on the topic '#MeToo campaign in the university' in March the same year. Among the panelists were Ms. Ruchi Gupta, Joint Secretary of All India Congress Committee, Ms. Swaty S. Malik, Lawyer at Delhi High Court, Ms. Smita Bharti, Social Activist and theatre director, and Ms. Subhashini Shriya, a member of Pinjra Tod Collective. They emphasized the importance of making the movement a political issue to increase accountability on part of the office bearers and to ensure that those who are in power take necessary steps against sexual harassment. Highlighting one of the critical issues, Ms. Swati argued that since time immemorial women have been made to believe that they are themselves responsible for being sexually assaulted or harassed.
Pinjra tod, a student collective has been campaigning since three years for the formation of an Internal Complaints Committee (ICC) in all colleges under Delhi University. They have demanded the autonomy of the ICC as well as election of student representatives, putting forward the hashtag, #MakeMyCampusSafe
It has become evident that today's youth is moving forward to gain justice as Delhi University's Student's Union has been acknowledging complaints of sexual harassment. It is only reasonable to stand united as a robust force in our fight against sexual harassment until we reach the desired goal.
Image Credits: qrius