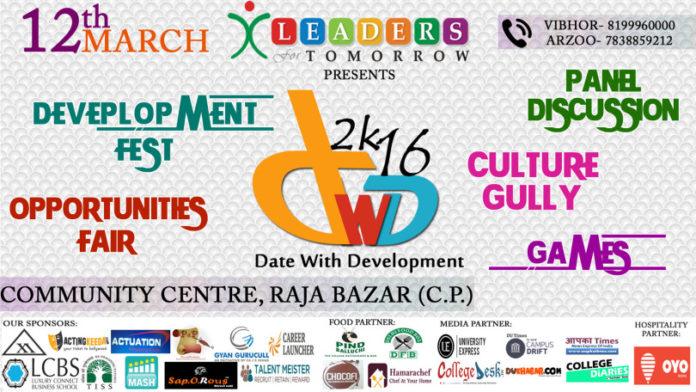 Delhi will witness the largest convergence of youth on social change on 12th March at Date With Development, a development festival being organised by Delhi's biggest not-for-profit youth movement, Leaders For Tomorrow. Aimed at empowering the youth to combat various social challenges, the event will see the coming together of over 5000 youth who will participate in various events themed around social development.
Date with Development that will be held at Community Centre, Raja Bazaar includes a unique collection of events focusing on the theme of social development including competitions ranging from short film making, t-shirt designing, debate, to poetry writing, ad-mad, social business plan, battle of bands; cultural exhibitions; and panel discussions.
The panel discussion to discuss 'youth and their Role in Nation Building will see young entrepreneurs: Hemant Sahal, Founder & CEO of CollPoll; AashishBeergi, Co-Founder & CEO, MASH Project; and Onkar Khullar, Founder of I Impact India.
The event is a culmination of the 'development week' which saw a series of events including a youth awakening rally and flash mobs across the city, aimed at inspiring the youth to be apart of social change.
This event is one of its kind with the distinction of being conceptualised, planned and executed by young leaders from over 200 colleges and 15 universities of Delhi NCR and promises to be a unique testimony of what the youth can accomplish if determined to lead change.
ABOUT LEADERS FOR TOMORROW:
Leaders for Tomorrow is a not for profit youth leadership movement working amongst college students, aimed at awakening the social consciousness of youth by encouraging them in volunteerism and skill development. We work in the campuses; conduct social development related events and leadership programmes to create true LEADERS FOR TOMORROW!
Contact: Prince   +917042414320
Sahil     +919716128108
Arzoo   +917838859212
Email: president.lft@gmail.com
Website: http://lft.org.in
Facebook: www.facebook.com/LeadersForTomorrow