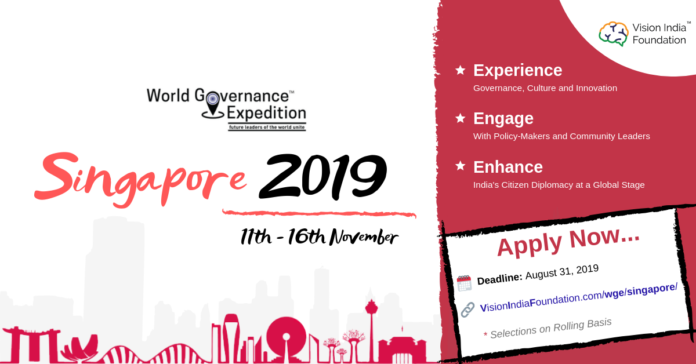 Applications Open
World Governance Expedition | Singapore
11th – 16th November

Ever wondered how nations deal with governance?
What are the mechanisms and processes of policy-making involved?
What role does the government play in the life of a citizen?
Join the World Governance Expedition to Singapore to find these answers and much more.
The World Governance Expedition (WGE) is a unique opportunity to further India's citizen diplomacy. A selected delegation of bright and motivated individuals will understand the various international best practices in the realm of policy-making and governance and explore ways of incorporating them in the Indian context.
Why Singapore: 

Visit #2 competitive country in the world. Learn from Singapore's success story of development and governance
Visit #2 country in Ease of Doing Business. Understand the vibrant economic ecosystem of Singapore
Visit #1 country for children to grow up. Experience youth leadership and citizen-grooming
Program Features:

Engage with politicians, bureaucrats, academicians, policy-makers, thinkers and social entrepreneurs
Explore Singapore through community interactions, field visits, policy ideations and cultural immersions.
Enact on shaping India-Singapore relations by building lasting relations with policy-makers and leaders of Singapore
Be a part of a highly aspiring cohort of change-makers and future leaders to represent India at the global stage.
Apply from here: https://visionindiafoundation.com/wge/apply/
Find out more at www.visionindiafoundation.com/wge/