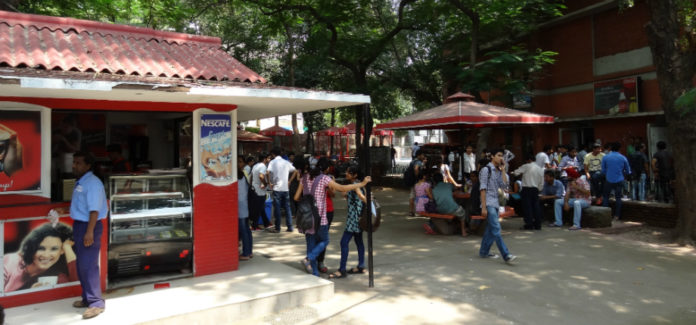 From the 'latke – jhatke' everyday fashion to the mouth watering delicious food, Delhi University has got the best.
North campus and South campus both have got a pretty good number of hangout addas. The perfect mix of culture ranges from exotic Thupkas to refreshing Banta. The famous hangout zones of DU students are:
1. The Kamla Nagar market
The Kamla Nagar market, popularly known as 'K-Nags' is the perfect place to shop casually from. It has got huge variety of options from artificial accessories to second hand books. The college students come to this market on a regular basis and there are more than 1,000 shops. The main attractions of this market are CJs cosmetics, jewellery store and K Lounge.
2. QDs
The famous outlet first innovated tandoori momos and then it went viral amongst the university students. The hot chilli chutney and tomato momos chutney adds up to the taste. Along with its biggest attraction, QD offers manchurian, chowmein, mock tails and fried rice. It is a famous adda for hangout and bunking the classes.
3. Chache di hatti
In the north campus area, another food outlet known for its delicious chhole-bhature is 'Chache di Hatti'. Its fame can be ascertained from the crowd that comes to their stall inspite of the fact that there are no arrangements to sit.
4. Bille di Hatti
The another heavy breakfast point for students is Bille di Hatti. Their chhole – poori, golgappa, lassi, paapdi chaat and yummy tikki is famous.
The another big hangout destination for DU students is the Tibetan market i.e., 'Majnu ka Tila' near ISBT. Famous for its cheap shopping options and exotic food, this market has got a lot to offer. Your pair of denims and tees can be purchased here for almost one third of the price you have have to pay for them. Most of the clothing material is from Bangkok market and it is among the top destinations for bunking. This market has got two main giants-
– Coffee House: Famous for its wholesome coffee, Coffee House can always be seen occupied by DU walas.
– Tee Dee's restaurant: This restaurant is famous mainly for its fried rice that has got the most exotic flavours mingled up in a Tibetan way that can make anyone's mouth water. Thupkas are another highlight of Majnu ka Tila.
Leaving Aruna nagar's tibetan market and heading towards the campus area, many surprises can be found that include:
– Tom uncle's maggi point: Tom uncle has his maggi point located near to Khalsa college. It is one of the favourites among the university students as they offer wide variety in maggi. Vegetable maggi and egg maggi is the main.
Tom uncle's maggi point is so famous that it has reached facebook as well.
– Edwin James' Banta: Edwin James, the owner of this Banta shop has two huge jugs and he mixes small pieces of ice, lemon and water and the refreshing Banta is ready. It is also a famous hangout point.
– Bhelpuri: Bhelpuri, the another excitement of DU campus has mainly two places; Mohanlal Bhelpuri wala i.e., located near Hindu college and Sunil Sethi Bhelpuri.
Talking about canteen or cafeteria of DU colleges, two names come into the mind. First is of Delhi School of Economics, which is known for its JP tea stall. JP tea stall sells ginger tea in winters and ice tea and masala coke in summers. Students love to hangout here when they don't know where to go. The second name is of Arts Faculty cafeteria which is famous for its sprouts laddoo and samosas.
It will be termed as a great sin for a student of south campus who has not been to Satya Niketan's 34 Chowranghee lane. This area, famous for its food and flavours, is a must go for every south campus student.
The Keventer's delightful milk shakes and tasty maggi are another place to go for.
The Satya Niketan area is famous for its Hookah parlours, Pool parlours and gaming arcades. The gaming arcades and pool parlours not only helps the student get rid of stress and boredom but has evolved into a statement in years.
Delhi university best defines the college life in a 'desi modern' term…