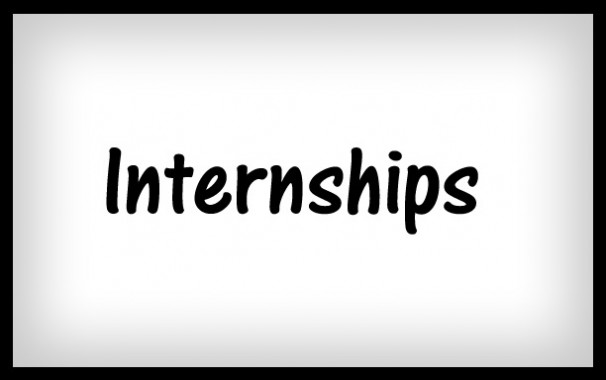 Ever fancy yourself walking down a swanky office corridor, with your name tag down your front or near your waist, socializing with colleagues at and after work, and learning something new every day? Internships are exactly that- fun while you learn on the job. I have worked as an intern at a start-up which works with social enterprises and innovative solutions for emerging markets and I had a whale of a time! Parties, discussions, non-stop trips to the pantry and fridge and at the end of the day, getting something concrete done on my project was how my day was defined.
What are internships like?
Internships can be very crudely defined to be contract employment- work for a trimester or semester on a specific project or with a senior management professional, learn how to manage work, network with important and unimportant employees and polish off the food at office kitchens.
Earlier when our older cousins or siblings interned, they had to do grunt work like working the coffee machine and being a silent observer. However, companies have now started offering serious projects to interns where they are given complete liberty about the way they approach the topic and provide the deliverables. Usually a senior manager is appointed to guide and supervise the work of the fledgling. But all in all, you are on your own.
Do I make some cash through internships?.
It depends. A lot of companies value the work that their interns do which is why they offer enough remuneration to cover the cost of travelling, if not the labour cost. The rest are too snooty and believe that getting the opportunity to intern at their concern is a big enough deal and a certificate from them is adequate to land you a stellar job paying fat cheques every month.
Off the record, it is better to work at a paid internship project rather than an unpaid one because no matter what, you are putting in some labour (travelling, understanding projects or making coffee even!) and must be remunerated for that. If nothing, at least your cost of travelling should be covered. There is no reason to feel scared that by taking the stand to do paid internships, you will lose out on good opportunities. A lot of companies have woken up to the fact that making interns work long hours for not even peanuts is ethically wrong and offer some remuneration. A standard paid internship usually offers Rs 5000 to Rs 7000 in a month although some hot shot companies could offer up to Rs 15,000, depending on the position you will be working in.
Why do I "waste" my summer vacations on internships?
Internships have become increasingly important in the global work sphere where experience matters. It actually helps to rub in the face of competitors "Hah! I have experience and you don't!" when it comes to job interviews. Hiring managers have also started questioning potential candidates about their work at internships, the kind of projects handled, how far the supervision went from the senior manager etc. Not only that, experience can be gained in terms of time management, work division and even fundamentals of office politics!
The opportunities offered by internships open up a door of options where from picks can be taken. For instance, in my stint at the start-up, I realized management consultancy is MY thing, MY calling rather than a boring analyst's job where I would have to crunch numbers all day long. Internships go a long way to help you recognize your true calling. A lot of my friends actually decided they would rather stick to academic research after working at corporates, reasoning that the stick-and-carrot working principal makes them go kaput!
Companies have recognized the need to have interns- they serve as a potential talent pool from which they can employ competent and high performing workers. Management consultancies such as the Boston Consulting Group and Nomura Securities employ interns over the summer and then offer them a pre-placement offer (PPO) at the end of the term seeing their diligence. Think about it- landing a job without ever appearing for a sweaty and nervous interview. Every student's dream!
Lastly, the opportunity to network and build potential contacts for seeking employment is much more than what Facebook or Twitter offers. Establishing personal relationships with your colleagues and boss helps to backtrack to find jobs at the company, when an opportunity opens up. In several cases, companies give leeway to past interns rather than conduct an open-to-all recruitment drive. An internship is the metaphorical key to open up the doors of a career for you.
How do I get the best internships?
A lot of courses are factoring in the need to do internships such as BBA and MBA where a substantial chunk of the course has been reserved for internships and reports from them. Engineering students also have a semester dedicated to internships and their reports. IT companies such as TCS take on 8000 interns annually who form almost 5% of their entire workforce. So don't lose hope, the perfect internship is somewhere out there.
Enlisting on sites such as internshala.com, letsintern.com and twenty19.com is a great idea because you gain access to a diverse set of internship opportunities on them. From starts ups to e-stores and finance companies and engineering firms, there is something in store for everyone! Get a resume tailored from the websites to come up with something that hiring managers would instantly lap up and give you the position of an intern.
Companies such as Nomura and Genpact have specific pages on their own websites where you can sign up for internships. However, for a summer internship, you must start browsing the websites from the previous autumn. (that's how they work!)
Keeping in touch with seniors often helps in getting internships. Recommendations work in a big way when it comes to these menial jobs as many people compete for them. Not everyone announces an internship drive which is why it is best you have an insider's source in landing a position.
All in all, these tips should be followed to land an internship that offers lots of scope to learn.
Start early. Good internships are snapped up like a plate of hot pakoras on a rainy afternoon. You will be able to pick and choose the options at hand rather than be at the mercy of the company who will pick you. Remember, early birds get the worm.

Prepare a concrete CV or resume which talks about your strengths, interests, important positions held (treasurer of the Interact club, class representative, head of the dance team.. you get the drift!). It helps the HR form an idea about who you are as a person and how you will fit into the scheme of things. Getting a Visual CV from Myrefers is a great idea because the exposure offered by it is almost 6 times that of a regular one!
A visual CV is a colourful, creative and illustrious way to showcase a candidate's profile. The levels of simplicity are unbelievable- even a kindergartener would understand! It lists your key skills according to 4 heads- basic, intermediate, advanced and expert, a one liner summary of employment profile and contact and personal information. Simple, short, sweet, appealing and powerful!
Now back to what we were saying..
Don't wait around for the perfect opportunity as there isn't one. Every job entails some responsibility and you will be able to learn something or the other. Starting at the top is possible only for Bill Gates' kids (and their likes). The rest of us have to slog it out from the bottom.
Internships are a great way to begin your career. Get off to a great start today to land a well-paying job even as a fresher.