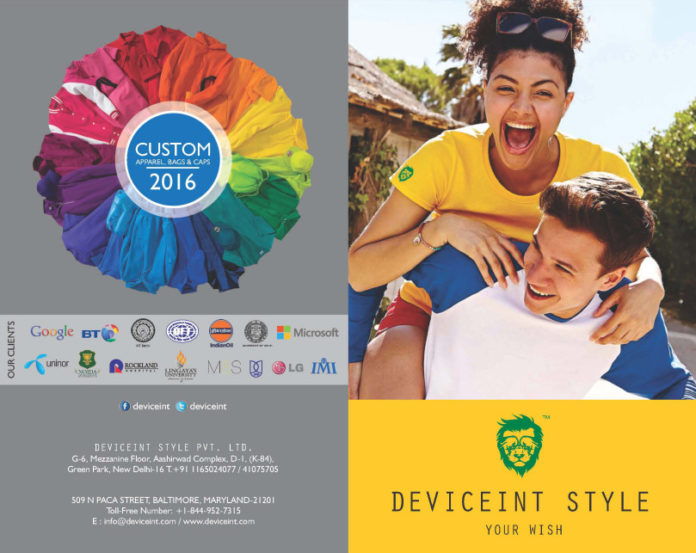 Their journey, from a dream to a reality took ten long years, and in the summer of 2012 the website marked the inception of the company.
The brand with its unique name projects what it has to offer "YOUR WISH". Deviceint Style is all about being cool and comfortable. With Equal focus on quality, flexibility, and speed we aspire to be pioneers in providing customized clothing for schools, colleges, corporate and business set ups.
The core of the company comprises of highly enthusiastic youngsters who while at their stint at IIT Delhi, incubated the dream of providing solutions for active wear and clothing which would stand out from an adrenaline pumping intramural sports field situation to the wild cheering passionate crowd. Our immensely talented designers from NIFT customise these extraordinary products. All in all a bunch of really creative and genius people working hand in hand to give you the best services at affordable prices. We have been manufacturing, customizing and retailing the finest products to many enterprises . We deal in customized clothing, T-shirts, caps, shirts, jerseys, other sportswear and thousands of unique products that can be find in our catalog. Our company has skilled workman force, employees, laborers and assistants to help you with your queries and update you with the recent clothing offers. We work on the basic principles. Taking deadlines seriously, paying attention to each and every detail, quality printing, and business transparency. We value frequent and open communication by giving you honest and constructive feedback.
Thinking of getting Tees and Sweats for your organization, Think Deviceint Style!
There idea is:
"You decide and we design!!"